Free shipping on US Domestic orders over $100!
Retro Clean - 4 oz package
Have you ever seen vintage textiles with those brown or yellow age stains that just ruined the pristine look of what otherwise would be a real prize? Washing doesn't seem to have any effect and they either end up in the bottom of a box in the garage or maybe even the trash. Well, the developer of Retro Clean has been washing vintage quilts and textiles for decades and he found a solution to this age old dilemma.
Whether you are trying to remove mildew stains from linens, remove wood oil stains from vintage laces and quilts, remove tea/coffee stains from tablecloths or remove perspiration stains from vintage clothing, Retro Clean will renew your treasured heirlooms to their original color and vitality.
Retro Clean is a gentle soaking agent designed to safely remove yellow age stains (including mildew, wood oil, tea, coffee, blood, water damage and perspiration stains) from vintage quilts and all washable fabrics.
It truly works wonders!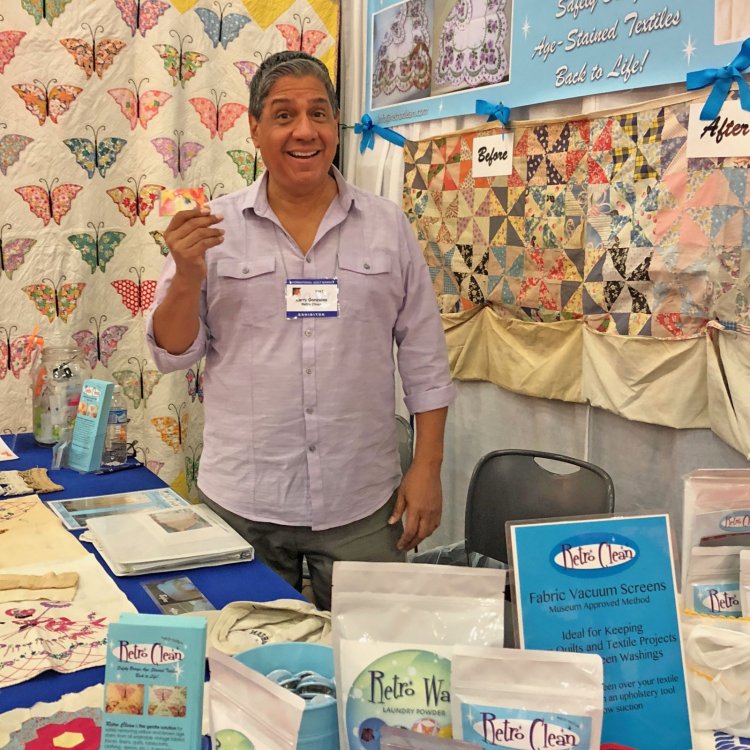 Larry Gonzales, developer and owner, with quilts treated with Retro Clean.